This year's surprise package – and current Formula One Championship leaders – Brawn GP have announced plans for a selection of race cars from their memorabilia collection to be sold by Bonhams at the Silverstone Classic Historic Race Meeting on Saturday 25 July.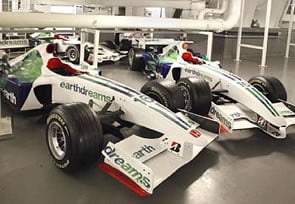 Historic race cars, scale 1:1 show cars and a range of items from the team's memorabilia collection are amongst the lots on offer. The Formula One cars to be sold date from 2001 to 2006 and cover the ownership periods of the team by British American Tobacco and Honda Motor Company. The cars have been driven by top drivers including former World Champion Jacques Villeneuve, Jenson Button and Rubens Barrichello.
The race and show cars will be in rolling chassis form (without engines or other ancillaries) and estimates are expected to range from £7,000 – £22,000. In addition, up to 100 lots of memorabilia will be sold including race overalls, component spares and merchandise.
Commenting on the announcement, James Knight, International Managing Director of the Bonhams Motoring Department said: "We are very excited to have been appointed by Brawn GP to sell these exclusive items from their extensive memorabilia collection. All Formula One teams accumulate a fairly large collection of race chassis over the years and the timing of the Brawn GP sale could not be better. The team have been the undoubted stars of the 2009 Formula One season and this sale enables collectors and their legion of fans to acquire some fabulous historic lots".
Nick Fry, Chief Executive Officer of Brawn GP commented:"We are extremely pleased to be working with Bonhams on our forthcoming memorabilia sale at the Silverstone Classic Meeting in July. Brawn GP is extremely proud of our heritage with British American Tobacco and Honda, and we have inherited a vast collection of historic race cars and memorabilia from the team's early years. We are delighted to be able to give collectors and our fans the opportunity to share in our history and purchase some fantastic items, including actual race cars, through this unique sale."
The Bonhams auction is open to all Collectors' motor cars and will take place on Saturday 25 July. The overall featured marque at this year's Classic is Jaguar and the Bonhams sale will have a special section devoted to the famous "leaping cat". Entries are now invited, please contact the team on 020 7468 5801 or [email protected]