An extensive archive of images by the British photographer, Harold Chapman, the single largest collection of Chapman material in private hands, is to be offered for sale at Bonhams by private treaty. The collection, a selection of which is on show at Bonhams, New Bond Street from now until 11 January 2011, comprises 108 photographs of Paris and the Beat Hotel taken between the late 1950s and early 1960s. The show will coincide with Bonhams' Urban Art sale, which takes place on 11 January.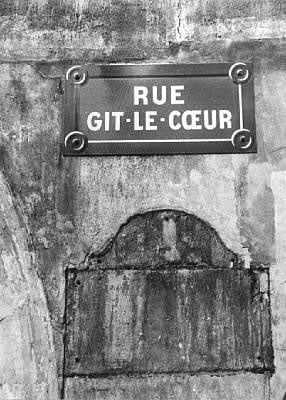 Kent-born Chapman moved from London to Paris and into the infamous Beat Hotel in the mid 1950s. Located at 9 rue Gît-le-Coeurin the city's Latin Quarter, the Beat Hotel was a magnet for artists, writers and poets. Chapman's fellow lodgers included William Burroughs, Gregory Corso and Allen Ginsberg, who had recently fled obscenity trials in the US after the publication of his poem, Howl. This creative hub was presided over by the hotel's formidable owner, Madame Rachou.
Chapman, whose career started with newspapers and magazines in the UK, chronicled the every movement of the hotel's residents in Paris. Such was his dedication to taking photographs that Ginsberg gave him the nickname the 'invisible' photographer. He recorded the extraordinary people, places and pastimes of the Beat generation, always aiming to capture the scene as it actually happened, without staging or intervention. As a result of this unrivalled access and captivation of the Beat lifestyle, Chapman's works have been exhibited world-wide. Earlier this year an exhibition of his work was held in London and his work has been shown in Paris and California. Meanwhile, a film about the Beat Hotel, focusing on Chapman and his relationship with the Beats, is due for release by Documentary Arts in 2011. A ten minute excerpt will be shown alongside the photographs at Bonhams.
Acquired directly from the photographer by the present owner, who also lived at the Beat Hotel, the archive is accompanied by a fascinating and unique collection of Chapman's own anecdotes and reflections on each photograph. Approximately half of the images are reproduced in Harold Chapman's The Beat Hotel (Gris Banal, 1984), a signed copy of which will also be sold with the archive.
www.bonhams.com/haroldchapman