Dr. Tarsey, a philanthropist, collected fine art, Asian objects, porcelains, silver, jewelry, more.
(PANAMA CITY, Fla.) – The estate of the late Dr. Tanja B. Tarsey – a chemist and philanthropist who died in 2009 and collected fine art, Asian objects, porcelain pieces, better furniture, estate silver, fancy jewelry and more – will be sold the weekend of April 29-30 by Specialists of the South, Inc., in the firm's showroom at 544 East 6th Street in Panama City, Fla.
"Dr. Tarsey was a kind and giving person who donated generously to organizations like the American Cancer Society," said Logan Adams of Specialists of the South, Inc. "She also loved to surround herself with beautiful objects and furniture, which she displayed at her home in the exclusive, gated community of Bay Point, in Panama City Beach. She also had a keen eye for fine art and stocked her home with wonderful original works."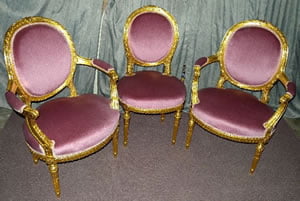 Ms. Adams continued, "Dr. Tarsey gold-leafed nearly everything she owned, from fine art frames to furniture. It just made everything she owned look that much more dazzling. Some of the furniture is period, but a lot of it is 19th and 20th century. She had no children, so everything from her estate is being offered. Nothing will be held back. This will be a rare opportunity for collectors."
Following her passing, Dr. Tarsey's items were put into storage, in a climate-controlled facility. Only recently were they transported from there to the Specialists of the South's gallery, where they are now being photographed and cataloged in preparation for the sale. Online bidding will be facilitated by LiveAuctioneers.com (images and text will be posted beginning April 8). Telephone and absentee bids will also be accepted.
About 140 pieces of artwork, many by noted listed artists, are expected to generate tremendous bidder interest. The largest piece in the sale is a 74 inch by 54 inch 18th century oil on canvas rendering of an allegorical scene with a seated woman, a child with a book and a man offering flowers with cupids at the top (est. $2,000-$4,000). It was done by an unknown school Northern European painter.
Other artworks expected to do well include the following:
• An original oil on canvas by Fred Harman, Jr., (Am./Colo., 1902-1982), titled Home Before the Storm, showing two Native Americans with horses moving from right to left downhill toward an encampment in the Southwest (est. $4,000-$6,000).
• An original oil on canvas of Christopher Columbus embarking for the New World with his three ships (the Nina, the Pinta and the Santa Maria), by George Murray (U.K., 1875-1933, est. $3,000-$5,000). Murray was known for his portraits, figurals and landscapes.
• An original oil on canvas of a Paris water scene by French painter Lucien Delarue (b. 1925, est. $600-$800). The work is signed lower right by the artist and marked on the back, "d'Ile de la Cite Paris Delarue." Delarue is internationally known for his Parisian renderings.
Asian objects will include a pair of Chinese cloisonné figures of pelicans with raised wings, mounted on triangular bases (early 20th century); a pair of 19th century Chinese famille rose enameled porcelain teapots from the Qing Dynasty (Tongzhi Era, 1862-1874); and a framed embroidery with "The Hundred Children" theme, also Qing Dynasty, and massive at 65 inches by 55 inches.
Porcelain pieces will feature a lovely tea set made in France around 1880 and having a matching tray, two cups and saucers, a teapot, creamer and covered sugar, and with a white field with a serpentine gilded edge; and a Scheibe-Alsbach German porcelain figure by M. Siegel of a seated hand-painted fisherman with a basket at his left side. The piece is 10 inches by 9 inches.
Furniture items will include a gorgeous pair of Jaconean-style English armchairs, made circa 1880-1900 and boasting seats and square backs with tapestry upholstery and gilded arms; an oak drop-leaf occasional table with cable twist legs, plain stretchers, arrow feet and molded edge (circa 1900); and an early 19th century French day bed with carved laurel wreath, acanthus and pineapple finials.
One decorative accessory sure to get attention is a Russian samovar, or metal urn used for heating water to make tea. The polished brass piece has a matching tray arched at one end, with loop handles. A vertical tube runs through the center of the urn, which is a container for burning charcoal to heat up the tea. The set was made in Moscow in 1884 and stands 18 ½ inches tall.
Other noteworthy decorative accessories include a Wedgwood blue Jasperware jardinière with garland below the rim and a continuous landscape with classical figures in silhouette, made in England and standing 7 ¾ inches tall; and a tortoise-shell inlay large gallery silver plate tray with bun feet and vertical pierced sides, made in England circa 1900-1910 and 25 inches wide.
Returning to artwork, other lots that will come under the gavel include a great miniature portrait painted on ivory of Shah Jahan of India (1628-1658) in an intricate ebony frame and done in India circa 1900 (5 inches by 3 inches); a pine-carved gilt and gesso statue of a bishop on a hexagonal base, 21 inches tall (Philippines, circa 19th century); and several Impressionistic works by Andre Gisson (American, 1921-2003, real name Anders Gittelson).
Dr. Tarsey also collected bronzes. A couple of her nicer pieces include a limited-edition sculpture (#3 of 6) titled Ballet Star, by Charles Cooper Parks (Del., b. 1922), 46 inches tall by 25 inches deep (est. $2,500-$3,500); and a brown patinated cast bronze sculpture by Mansel Ocheltree (Az., b. 1983), titled Mare and Colt. The limited-edition work (# 15 of 100) is 7 inches tall by 9 inches square.
Rounding out the weekend's expected top lots are a cold-cast copper bust of an Indian chief with feathered headdress and beaded necklace, mounted on a square wooden base and signed Retha Walden Gambaro (20th century); a beautiful 17th or 18th century ebonized and walnut jewelry cabinet made in either Holland or Italy, featuring a cover molded flat pediment over a doored front opening; two screens (one Oriental and one leather); a massive sterling English-style 9-arm candelabra by Robbe & Berking; an ancient terra cotta amphora, 24 inches tall, made in Greece circa 200-100 B.C., restored; and a translucent white Venetian chandelier with green shaded edges.
The auction will begin promptly at 9 a.m. (CDT) both days, with a preview from 8 a.m. until the start of sale. Additional previews will be held the week prior to the auction, on times and dates to be determined or by appointment. Call for details at (850) 785-2577, or send an e-mail to [email protected] Also, watch the website at www.SpecialistsoftheSouth.com.
The Specialists of the South, Inc. has been serving the Panama City community for over 30 years. The firm specializes in a broad range of services, to include estate auctions, furniture refurbishing, interior decoration, property appraisals and business liquidation services. It has been awarded the Small Business of the Month by the Bay County Chamber of Commerce.
The Specialists of the South, Inc. is always accepting quality consignments for future sales. To consign an item, estate or collection, you may call them at (850) 785-2577, or you may e-mail them at [email protected]
To learn more, or to register for the upcoming auction, you may log on to either www.SpecialistsoftheSouth.com or www.PanamaCityAuctions.com