Two beautiful pictures by the British maritime and figurative painter, Henry Scott Tuke (1858-1929) are to be sold at Bonhams, New Bond Street, as part of the 19th Century Paintings auction on 13th July 2011. Both depict a young man seen from behind, with the sea in the background beyond. Beach Study has a pre-sale estimate of £30,000-50,000 while Back of a boy bather is expected to fetch £5,000-7,000.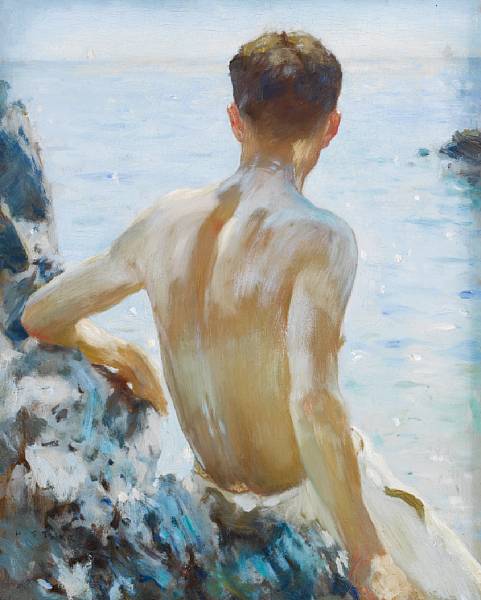 Beach Study is one of the last paintings Tuke exhibited at The Royal Academy before he died in March 1929, and it shows a semi-clad male figure by the sea leaning on rocks and bathed in Cornish sunlight. The subject is one of Tuke's most loyal and longstanding models, Charlie Mitchell (1885 – 1957). This remarkably bold and expressionistic work shows the toned and lean back of the model, honed by years of rowing boats around Falmouth harbour and painted by Tuke on many occasions. The work also demonstrates Tuke's confidence and mastery in the depiction of light, and there is a hint of sails on the horizon in a shimmering, sparkling mirage of heat and light.
The second work on offer, Back of a boy bather, is a very sensitive portrayal of a young shirtless boy sitting by the water's edge. It is a relatively early figure painting by Tuke, and although unfinished, it shows the delicate, soft handling of oils that Tuke mastered in order to capture the subtleties of tender flesh and form in the boy's head, back and arms.
Tuke was born in York, but began painting the nude outdoors as a professional artist in 1886, soon after he moved to Falmouth in Cornwall. He later moved to Newlyn, Cornwall, where he became part of the Newlyn School of painters and is best-known for his pictures of nude boys and young men.
Charles O'Brien, Head of 19th Century Pictures at Bonhams comments, "Henry Scott Tuke is a highly regarded and much sought after British Post-Impressionist artist. His ability to capture the vitality of youth and the extraordinary light found in Cornwall has always made his works popular with collectors."
www.bonhams.com/19thcentury