The sale will feature an Eli Terry pillar-and-scroll clock and guitars signed by rock 'n' roll stars
(NORFOLK, Conn.) – An early 19th century Eli Terry pillar-and-scroll clock, guitars signed by some of the greatest names in rock 'n' roll history, fine pieces of Hitchcock furniture, and gold and silver coins are just a few of the items bidders will be vying for at the first annual auction to benefit the Norfolk Lion's Club, slated for Friday, Feb. 17, beginning at 6 p.m. (EST).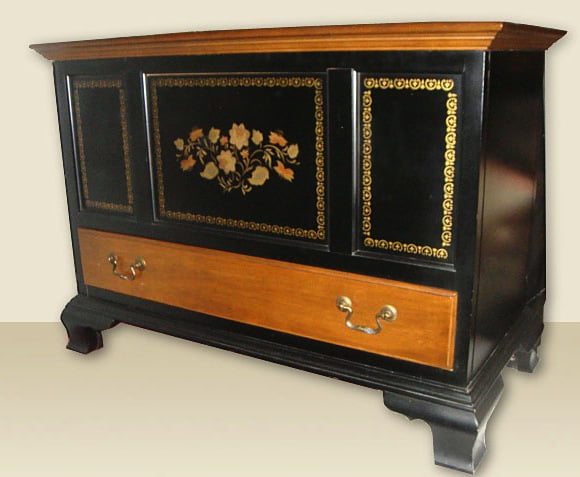 The event will be held at the Blackberry River Inn, located at 538 Greenwoods Road West in Norfolk, a town situated along State Route 44 in northwestern Connecticut, not far from the Massachusetts border and at the foot of the Berkshire Mountains. A preview will be held from 5-6 p.m. All proceeds will go to benefit the Norfolk Lion's Club, a non-profit organization.
"This promises to be a phenomenal first-ever auction to benefit a group that does a lot of good for the community," said Tim Chapulis of Tim's, Inc., the Bristol, Conn.-based auction firm that will conduct the sale. "Norfolk is a wonderful, historical town, home to some of this country's earliest settlers, and it's great to be able to help benefit the Lion's Club in this way."
Some of the items – like the Terry clock, guitars, furniture and coins – will have been consigned through clients of Tim's, Inc. Other items will be donated by residents of Norfolk and surrounding towns. "That's the beauty of this kind of auction," Mr. Chapulis said. "Quality items will be pouring in right up to the date of sale. You never know what will be there 'til it happens."
The pillar-and-scroll clock is the auction's expected headliner. Built in the early 1800s, with wooden works, it is an example from the workshop of Eli Terry (1772-1852), arguably Connecticut's most renowned clockmaker. Pieces by Terry are highly sought after by collectors. The village of Terryville, Conn., was named after his son. Other antique clocks will also be sold.
The signed guitars are also certain to attract bidder interest. One is an Epitone Les Paul model guitar, signed by Les Paul himself, the man who ushered in the era of the electric guitar. The sale will also feature a 78 rpm picture record signed by Paul and his wife, Mary Ford, as well as sheet music signed by the couple. A Johnny Cash signed autograph will also be sold.
Other guitars are signed by Peter Townsend of the Who (Tommy, My Generation, Happy Jack), plus a Fender guitar signed by members of Jay and the Americans (Cara Mia, Come a Little Bit Closer, She Cried), the Tokens (The Lion Sleeps Tonight, appropriately enough) and Leslie Gore (It's My Party, Judy's Turn to Cry). Also offered will be a rare Rolling Stones poster.
The Hitchcock furniture pieces included a set of chairs, a rocking chair. A cherry drop-leaf table, and a lift-top blanket chest with drawers at the bottom (and with the original paper in the drawer), all with gorgeous stencil decorations. Other furniture pieces will also be sold. The gold and silver coins are sure to garner attention, owing to the rapidly appreciating values of precious metals. Included will be three uncirculated silver dollars (1882-CC, 1883-CC and 1884-CC), still in their original 1970s-era presentation boxes. Fine estate jewelry will also be offered.
The auction will also feature artwork, mirrors, Oriental rugs, lighting, glassware, china and gift certificates. "The community has gotten the call to donate merchandise to this important first-ever event, and they're answering that call," Mr. Chapulis said. "I'm looking forward to it being a great success, and I also look forward to many more successful auctions in the future."
Admittance to the auction (and preview) will be a $10 donation to benefit the Norfolk Lion's Club. Refreshments will be served, to include wine, cheese, crackers, finger sandwiches, soft drinks and water A 15 percent buyer's premium will be applied to all purchases, with all the money going to benefit the Norfolk Lion's Club. Credit card purchases will be not permitted. Anyone wishing to donate an item for the auction may call Charlie Yard, president of the Norfolk Lion's Club, at (860) 542-6077. Items will be accepted all the way up to auction day.
The Norfolk Lion's Club was organized in the 1950s for the purpose of establishing and maintaining a volunteer ambulance service for the town. To this day, the Lion's Club provides excellent emergency medical service to Norfolk and the surrounding towns. That remains the main focus of the club, but its mission has expanded over the years to include other endeavors.
The group provides funds for eye examinations and glasses for children unable to afford them; Project Graduation (a drug- and alcohol-free celebration for Regional #7 high school seniors); and for scholarships for graduating Norfolk students. It also sponsors an Ambulance Explorer Group, for dedicated teenagers who train with volunteers and help respond to calls.
The organization also sends two or more high school students per year to spend a day at the United Nations; lends medical equipment to needy residents; provides the flags that are given out at the Norfolk Memorial Day parade; and helps organizations such as Fidelco, the Lions Low Vision Center and the Connecticut Lions Eye Research Foundation. Its motto is "We serve."
Tim's, Inc. is celebrating 33 years in business (1979-2012). The firm is always accepting quality consignments for future sales. To consign an item, estate or collection, you may call Tim Chapulis at (860) 459-0964, or e-mail him at [email protected] For additional information about Tim's, Inc. and the Feb. 17 Norfolk Lion's Club benefit auction log on to www.timsauction.com