Two rare and highly sought after vintage telephones could raise up to £3,000 when offered for auction later this month, (30th April).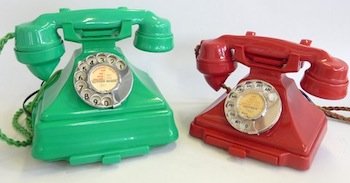 According to experts, the two telephones are 200 Series models in pyramid shape made from acrylic and date from the mid 1950's. This model of standard British telephone, now considered a design classic was introduced by the General Post Office in 1929 and continued in service well into the 1960's
If you were lucky enough to be able to afford a telephone during this period, (very few people did) you never owned one but applied to the GPO to rent one and the choice of colour was simple – black. However, if you were very well-off and wanted to be different you could apply for a coloured model in ivory, lacquer red or jade green. These coloured models attracted substantially increased rental costs making them prohibitively expensive for most individuals or businesses. As such very few survive today outside museums.
Both models of telephone shown here are particularly rare as they both have their matching coloured bellsets, (these telephones never had a bell inside and required a separate unit to make them ring). Each has a 'cheese tray' or small drawer in the base for keeping useful numbers.
Discovered at Richard Winterton Auctioneers of Lichfield, they are estimated to fetch £1,200-1,500 each when they appear for auction on 30th April. They are expected to be purchased by collectors, investors or interior designers looking for something unusual to make a statement in a room. Please phone 01543 251081 for further details. Website: www.richardwinterton.co.uk