A rare 1946 Patek Philippe Reference 1518 watch, a masterpiece of craftsmanship, once belonging to legendary sports entrepreneur Arthur M. Wirtz, to be sold at a Heritage Auction on Dec. 9.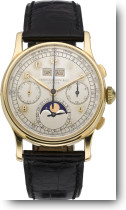 Reference 1518 is an important and extremely Rare 18k Gold Wristwatch with Chronograph, Perpetual Calendar, Moon Phases, Register, Tachometer and 18k Gold Buckle, previously owned by renowned sports entrepreneur Arthur Michael Wirtz, whose son Bill had a famous love-hate relationship with his hometown of Chicago.
This particular model of Patek Philippe watch represents what is widely considered to the very peak of wristwatch craftsmanship, all made precisely and painstakingly by hand, then polished and expertly assembled. The precision and skill that went into making such a delicate, intricate mechanism represents not only the mastery of a time-honored skill, but also the very zeitgeist of the mid-20th century and the rapid advances of the atomic age. Its value lay as much in its ingenious mechanical design as it does in its direct connection to the time of its making and the science and philosophy of the day.
The Patek Philippe Ref. 1518 was produced from 1941 to 1954, with a mere 281 total pieces completed. This was the first horological masterpiece to be produced in series that combined a perpetual calendar with the complexity of the chronograph. The under dial mechanism for the perpetual calendar functions was created in the Patek Philippe workshop by the famous watchmaker Victor Piguet. The 1518 is the most important perpetual chronograph for the serious collector, and has been the cornerstone for all the various models that have followed.
The original owner of the watch, Arthur Michael Wirtz (Jan. 23, 1901 – July 21, 1983) was a prolific sports arena operator and Chicago businessman. A University of Michigan man, he became successful as a real estate investor and broker during the depression years and, in 1952, along with James D. Norris, purchased the Chicago Black Hawks hockey team. He was also an owner of the Chicago Stadium, the Chicago Bulls, the Olympic Stadium in Detroit and the Bismark Hotel in Chicago.
Wirtz's son Bill had a famous love-hate relationship with his hometown of Chicago, after forbidding Blackhawks home games to be shown on TV unless they were picked up by national broadcasters. The Wirtzes were also blamed for allowing Bobby Hull to leave the Blackhawks and the NHL for the World Hockey Association. Despite these controversies, both were great philanthropists, defended by many of their employees as generous and fiercely loyal men.
Other highlights of the Heritage December Jewelry and Timepieces Signature Auction include two more Patek Philippe wristwatches: a Ref. 3970 EJ, chronograph with perpetual calendar and moon phase, circa 2004 (estimated $100,000 to $120,000) and a rare gold wristwatch presented to the legendary golfer Gene Sarazen in 1922 (estimate $40,000 to $50,000). The sale will also feature a George Tyler rare gold clock watch, presented to the Earl of Cromarty by Queen Anne of England and Ireland, circa 1702 (estimate $30,000 to $40,000) and a Rolex, Ref. 4062, coin edge rose gold chronograph, circa 1950 (estimate $30,000 to $40,000).
Auction info www.HA.com