(Matthews, N.C.) – An extremely rare Winchester New Rival 10-gage empty Christmas shell box, professionally restored and with all the labels intact, sold for $12,870 in an Internet and catalog auction held by SoldUSA.com, the premier hunting and collectibles site. The auction went online mid-November and concluded Dec. 13-14. The Winchester box was the top lot of the hundreds of lots sold.
Strong and, in some cases, record prices were realized for many of the items that came up for bid. This, despite the deteriorating condition of the nation's financial markets. "It would seem that when the stock market is down, people begin to switch to tangible items," said Chris Roberts, the president of SoldUSA.com. "This was a great sale for us. Bidding was fast and furious, especially in the final days."
Mr. Roberts attributed the sale's success to the huge numbers of people who viewed the firm's advertisements and auctionzip page. "We registered over 500 new people to our mailing list," he said, "and we had over 3,000 active bidders, 900 of which were winning buyers. We had over 800,000 hits per day the last few days of the sale, and we actually had to enlist backup servers to handle the traffic."
The Winchester box showed a hunter with two pointers on point, and exhibited only minor soiling and wear. The restoration was so impeccably executed, only a trained eye could ever detect a hint of it. But it was the piece's rarity that drove the price up. "We've only offered four of these boxes in 20 years," remarked Mr. Roberts. "It would most certainly be the centerpiece of anyone's collection."
Predictably, hunting and fishing collectibles dominated the event's offerings, but the auction also featured a large selection of World War II German militaria. "This is an area of collecting we are looking to expand into, and I feel we took great steps in that direction with this auction," Mr. Roberts said. The sale also featured a broad array of general store and advertising items, plus other quality lots.
Additional highlights from the auction follow. All prices include a 13 percent buyer's premium.
A magnificent lithograph on cardboard bullet board for U.M.C., titled Canvasbacks Through the Snow, in the extremely rare green variation, gaveled for $11,865. The image on the 35-1/2 inch by 54-1/2 inch board was bright and clean, in full color. It required a bit of touch-up by SoldUSA.com's conservators, as it was slightly faded when received. Otherwise, it was a fine example of a rare item.
A well-documented first-generation Colt single-action Army pistol, engraved by Cole Agee, hit the mark at $7,998. The pistol, made in 1901, was pictured on the November 1994 cover of The Gun Report, with an article picturing both sides of the weapon. The fine engraving featured a stylized scroll pattern in gold wash. The stocks were in perfect original condition and the firearm presented itself well.
A Peters New Victor 12-gage fully correct shell box – King's Smokeless, for Trap and Field Shooting – changed hands for $6,972. A similar box was pictured on page 76 of The Encyclopedia of Shotgun Shell Boxes (the one offered by SoldUSA.com was even nicer). It boasted near perfect correct shells, nice clean labels and sharp corners and edges. It was a new world auction record for such a box.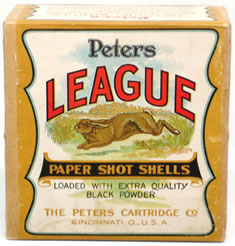 A Peters League Rabbit 10-gage blank sealed shell box, one of the most coveted Peters boxes, climbed to $5,695, also a new world auction record for such a box. Like with the above Peters box, an example like this one was also pictured in The Encyclopedia of Shotgun Shell Boxes. And, like that box, the one offered by SoldUSA.com was nicer than the one in the picture, with near perfect partial sealing.
A 1916 DMW manufactured World War I German Luger — with original holster, tool and two matching clips — realized $3,842. The wonderful example had only light rubbing, where it had been drawn from its original 1916 dated holster. The weapon had all matching serial numbers, including both magazines. The blue retained about 92 percent of its color. The bore was graded an 8 out of 10.
A World War II Ortzgruppen Einsatzleiter (ranking political leader) uniform went to a determined bidder for $3,672. The uniform included a high-peaked visor cap, blue piped; brown belt with gold wash political buckle; tunic with tag inside pocket, indicating rank; riding-style breeches with all ties; high boots; political three-place ribbon bar; DRL sport badge in bronze; and a black tie.
A rare World War II German Army Panzer wraparound black uniform, with pants, commanded $3,390. The uniform included uniform with black plastic buttons and elongated collar tabs with metal skulls attached; slip on shoulder boards with pink piping; Iron Cross ribbon attached to button hole; loops on left chest area for badges; Army breast eagle on right breast area; and pants with all buttons.
A Laflin & Rand Powder Company Orange Sporting Powder poster from 1873 fetched $3,265. The poster – produced by Raynor & Co. Lithographers – is a litho on canvas featuring flying mallards with a large ten-point buck swimming in the foreground. The framed piece was signed and dated lower right. The 22-1/4 inch by 28-3/4 inch poster is quite rare — one of only a few examples known to exist.
Rounding out the top lots, a Townsend Gun Company 12-gage hand-load empty shell box, one of the most sought-after of all the hand-load boxes and pictured in The Encyclopedia of Shotgun Shell Boxes, rose to $2,396 (a new world auction record); and an E.W. Vine 12-gage hand-load empty shell box, pictured in The Encyclopedia of Shotgun Shell Boxes, made $1,315 (a new world auction record).
SoldUSA.com is one of the oldest Internet companies in the world. It started in 1990 as the brainchild of Ronnie Roberts, who launched Dixie Sporting Collectibles and very shrewdly took note of the young company's success with Internet sales. It eventually evolved into what it is today — SoldUSA.com, the premier hunting collectibles auction site on the Web, with 30,000 registered users.
SoldUSA.com's next big sale will go online in mid-February and conclude March 14-15. The auction will feature general store items, hunting and fishing collectibles, militaria and other quality lots. Consignments are still being accepted for this and future sales. To consign an item, estate or collection, you may call them directly, at (704) 815-1500; or, you can e-mail them at [email protected]
For more information about SoldUSA.com and its calendar of upcoming auctions, you can log on to www.SoldUSA.com.