A rare Frederic Church painting will highlight the May 20th American Paintings sale scheduled to take place at the New York galleries of international auctioneers, Bonhams.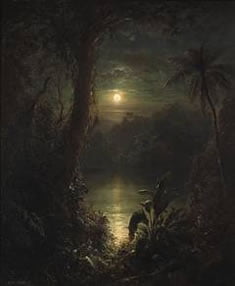 Titled Tropical Moonlight it is amongst the important paintings derived from Church's travels around South America. Other paintings from this group include Heart of the Andes which hangs in New York's Metropolitan Museum of Art and Rainy Season in the Tropics which is on display at Fine Arts Museum of San Francisco.
The painting was given directly from Church to his patron and friend, William Henry Osborn. After Church's death in Osborn's New York apartment, the painting remained in the family for decades, before being placed on loan to the Fine Arts Museum of San Francisco where it has been hanging for the past thirty years. With its historical value and impeccable provenance the piece carries an estimate of $1.2 million to 1.8 million.
Also cause for much excitement are three Richard Miller works representing the final pieces of a collection that had been in the possession of the artists' family since his death in 1943. Especially known for his paintings of female figures in sunlit interiors, the collection was marked by a number of classic paintings by the artist, with this final group also containing pieces that are prime examples of his work.
Perhaps the most coveted of the lots to be offered is the artist's Lady Seated on a Couch. Measuring 36 x 34inches, the double sided piece very clearly demonstrates Miller's Impressionist technique and once again his fondness for painting women in sunny interiors. Estimated at $150,000-250,000, it is a sure draw for collectors.
Miller's Reclining Nude combines his preferred tableau of a reclining woman in a bright room along with his subtle study of form. Estimated at $100,000-150,000, this piece is expected to spark competitive bidding. Rounding out the Miller pieces is a very different work titled Portrait of William Dean. Estimated at $4,000-6,000 the portrait is the only one in the group that does not hold to Miller's favored subject- women in luminous settings.
Of particular note is a fresh to market piece by William Glackens. The painting shows two boys with a sled in a snow covered Washington Square Park in Manhattan. In addition to being a nostalgic scene of one of New York's most famous landmarks, the work is of great interest as another Glackens work featuring a winter scene in Washington Square fetched $635,000 in 1996. Estimated at $200,000-300,000, the lot is drawing much pre-sale interest.
A group of works by the renowned Grandma Moses is also garnering much attention. Of these, a painting of her beloved Hoosick Falls, estimated at $80,000-100,000, is expected to bring about spirited bidding. Featuring a lovely bird's eye view of the town and surrounding countryside, the piece is highly desirable to fans of her work.
Also certain to pique the interest of bidders are three Grandma Moses winter scenes. A work titled Which Way carries an estimate of $25,000-35,000 and the idyllic Hurrah for Christmas is expected to fetch as much as $40,000-60,000. A Fine Gobbler, from the estate of "Rebel Without a Cause" producer, David Weisbart, is estimated at $30,000-50,000.
Hovsep Pushman works are also expected to incite strong bidding. The three pieces to be presented all feature Pushman's subdued interpretation of Oriental subject matter. The Chinese Horse, is estimated at $40,000-60,000. From the estate of the artist, and both with an estimate of $15,000-20,000, Un Combattant and A Shrine are also compelling pieces for Pushman collectors.
Not to be overlooked, are also four excellent bronzes by Frederick MacMonnies. Each depicting Roman mythological figures, the works are all remarkably detailed in the manner for which MacMonnies is famous. Diana carries an estimate of $20,000-30,000;
Cupid is estimated at $15,000-25,000; Pan of Rohallian is expected to fetch $12,000-18,000; and Bacchante holds an estimate of $10,000-15,000.
The sale will take place at 580 Madison Avenue on May 20th at 5PM EST. The illustrated auction catalog for the sale will be online at www.bonhams.com/us in the weeks preceding the auction.