Bonhams raised a grand total of £1,304,032 at yesterday's highly-anticipated Exploration & Travel Sale at New Bond Street, which featured an extraordinary array of books, manuscripts, artefacts and pictures.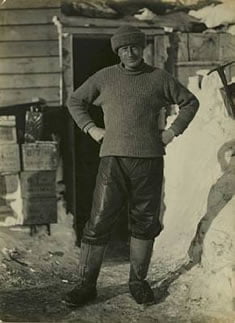 The highlight of the sale was undoubtedly the archives of Dr Edward Wilson (b.1872), arguably the most important member of Captain Robert Falcon Scott's numerous Polar expeditions, which fetched a staggering £199,560.
This collection of fascinating personal effects included a first-hand account of 'The Worst Journey in the World': the story of the Cape Crozier Party's journey in the midst of the darkness of the 1911 Antarctic winter. The impressive 40-page narrative is thought to be the only manuscript of its calibre relating to the heroic age of Antarctic exploration not now in institutional hands. It sold for an astonishing £132,000 (estimated £80,000-120,000).
Alongside this, a transcript of this treacherous voyage, sold for £3,120, over six times its pre-sale estimate, whilst an autographed letter from Scott himself to Dr. Wilson snr. praising the bravery and confidence of his son, fetched £6,960 (estimated £2,000-4,000).
A selection of illustrations by Wilson were also included in the sale, with a collection of original pencil drawings, together with an amusing watercolour pencil caricature of Wilson as a penguin achieving £5,760, against an estimate of £800-1,200 and a signed watercolour picture of a large iceberg by Wilson reaching a cool £7,800 (estimated £3,000-5,000).
Wilson's scientific instruments, including a small ship's compass and barometer sold for £1,920 (estimated £400–600), whilst a collection of his laboratory instruments sold for over seven times its estimate, fetching £3,120.
Also included within the archive was a pair of sketchbooks kept by Ida Wilson which sold for an overwhelming £6,600 (estimated £400-600). Similarly, there was shining success as a Louis Audemans 12ct gold open-faced pocket watch and 9ct gold chain once belonging to Wilson fetched £5,760 (estimated £400-600).
Elsewhere in the sale, bidders were chomping at the bit to bid for the very rare scrimshawed whale's tooth from H M Sloop "Beagle", decorated by James Bute with scenes from Charles Darwin's 1834 voyage. This 7 inch (18cm) tooth sold for a world price for a British scrimshaw at £40,800 (estimate £30,000-50,000). From the topographical pictures department, new world record prices were set for 4 major lots. A remarkable sketchbook containing over 80 stunning watercolours by Count Amadeo Preziosi (1816-1882) from his travel around Europe reached £378,400 (estimated £320,000-500,000) exceeding the previous world record by over £100,000. Meanwhile, A rural scene near Havana, Cuba by Pierre Toussaint Frédéric Mialhe (1810-1868) also more than doubled existing records, selling for over 50 times its lower estimate of £1,200. Also of note, a rare work by Victor Patricio Landaluze (1828-1889) was bought for an astounding £40,800 (estimated £1,200-1,800) and a Still life of roses by Margaret Olrog Stoddart (1865-1934) reached £8,040 (estimated £1,000-1,500).
Other highlights of the pictures section included an important work by Ludwig Blum (1891-1975) of the walled city of Jerusalem from the Mount of Olives which sold for £33,600 (estimated £15,000-20,000) and 12 fine hand-coloured lithographed plates of Rio de Janeiro by Johann Steinmann that reached a very impressive £27,600, against a pre-sale estimate of £15,000-20,000.
Jon Baddeley, Head of Collectors at Bonhams world-wide commented on the sale: "This was the first Exploration & Travel Sale organised by Bonhams and, following the enthusiastic bidding and extraordinary prices realised, this theme auction will certainly become a regular event in our sales calendar."
www.bonhams.com/travel