Bonhams & Butterfields is privileged to announce the consignment of cars from discerning and eclectic collector Sam Garrett for their forthcoming sale at the Petersen Automotive Museum in Los Angeles on November 14th.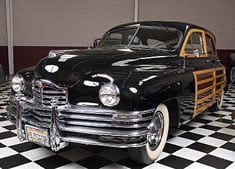 Known for having invented the mascara brush for women by taking a brush used in the maintenance of camera equipment and, together with Max Factor, applying the concept to make-up, Garrett is regarded in the business and automotive world as a gregarious, skilled and generous character whose assembly of cars represents his unique and varied tastes.
The wonderful collection of 28 cars is to be offered without reserve and comprises such a diverse range of automobiles from Europe and the United States, including:
1927 BNC type 110 Roadster
1935 Brewster Town Car
1937 Rolls-Royce 25/30 Limousine
1948 Packard Custom 8 Wagon
1950 Morgan SS
1967 Mercedes-Benz 600 SWB
These and 22 other cars of Garrett's, along with such unique items as the Chevy pick-up truck and Indian motorcycle once belonging to Steve McQueen, will be offered for sale at Bonhams' Classic California auction on Saturday, November 14th in Los Angeles. As always, the venue will be the famed Petersen Auto Museum on Wilshire Boulevard.
Bonhams' auction at the Petersen Auto Museum on Wilshire Boulevard in L.A. will take place on Saturday, November 14th. Buyers interested in participating in this renowned sale, either remotely or in person, may register to bid by contacting [email protected]
For more information on Motoring Dept. sales at Bonhams, please visit: www.bonhams.com/motors