Boston, MA – Skinner, Inc. will host an auction of European Furniture and Decorative Arts on October 6th in its Boston gallery. With more than 900 lots offered, the sale features a broad array of silver, Continental porcelain, glass, statuary, clocks, paintings and prints, lighting, rugs, textiles, and antique furniture. The collection of renowned actor, director, and master teacher Michael Howard will also be offered.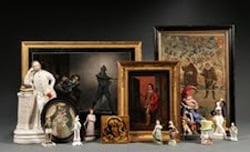 Fine Silver
The silver session features nearly 450 lots, with a broad range of flatware and hollow ware from the United States, Europe, the Middle East, and Central and South America. The bidding begins with British silver, and features two assembled Paul Storr covered tureens with unicorn finials (lot 40, estimated between $5,000 and $7,000).
Continental silver follows with highlights that include a large sterling silver compote with pendant grape clusters by Georg Jensen (lot 144, $9,000 to $12,000), as well as several Georg Jensen flatware sets including one in the Cactus pattern (lot 137, $10,000 to $15,000) and another in the Acorn pattern (lot 159, $3,000 to $4,000).
Offerings by American makers are particularly strong. An early 20th century Gorham presentation sterling silver punch bowl service (lot 300, $30,000 to $50,000) offers a fine example of Gorham design and craftsmanship. The punch bowl is lightly hammered and cast with grape and vine decoration. The tray and twelve cup holders bear a similar decorative motif, including grapes, oak leaves, and acorns.
Highlights from Tiffany & Co. include four Chrysanthemum pattern sterling silver candlesticks (lot 310, $18,000 to $22,000) and a Persian-style sterling silver coffee service (lot 333, $6,000 to $8,000), both from the early 20th century. Several lots of silver designed by Elsa Perretti are expected to generate interest, including a sterling silver covered tureen and underplate (lot 151, $4,000 to $6,000) and a pair of Bone pattern sterling silver candlesticks (lot 153, $2,000 to $4,000).
The final lot of the session is a patinated .999 silver and bronze figure of an eagle, entitled Freedom, by contemporary American sculptor Steve Retzlaff (lot 442, $8,000 to $12,000). The sculpture stands two and one half feet tall and the silver content amounts to nearly 700 troy ounces.
The Michael Howard Theater Collection
The sale will also feature approximately fifty lots of collectibles associated with theater from the personal collection of Michael Howard. Howard is a renowned actor, director, and teacher of the dramatic arts, having taught at the Julliard School, Yale School of Drama, American Conservatory Theatre, and most notably at his own studio. Citing his master teacher, Lee Strasberg, as a major influence not only professionally but also as a collector, Howard has been actively collecting since his career started more than 60 years ago.
Much of the Michael Howard collection relates to Shakespearean characters and the actors who played them. Examples include a painting of Edwin Booth as Iago by Thomas Hicks (lot 509, $4,000 to $6,000) and three Chinese reverse paintings on glass illustrating scenes from The Winter's Tale, The Tempest, and Hamlet (lots 531-533, each $3,000 to $5,000).
19th century English actors and actresses are represented in paintings, needlework samplers, porcelain and pottery objects, and tinsel prints. And the Commedia dell'Arte is represented in several lots including a collection highlight: a large needlework piece portraying an early stage production, complete with the characters Harlequin, Il Dottore, and Scaramouche (lot 544, $4,000 to $6,000).
Furniture and Decorative Arts
English pieces of note include a William IV amboyna and yew wood writing table (lot 746, $8,000 to $12,000), a Regency mahogany drum table (lot 792, $2,000 to $4,000), and a George III parcel-gilt and caned bergere (lot 829, $4,000 to $6,000).
The variety of Continental furniture is demonstrated by two case pieces. The first, a fine 18th century Dutch walnut armoire (lot 574, $15,000 to $25,000) is marquetry-inlaid throughout; the second, a brass- and alabaster-mounted mahogany veneer secretaire abattant (lot 606, $5,000 to $7,000) features burl- and string-inlaid fronts, a tambour door and other exquisite details. An important circular marble table top (lot 811, $6,000 to $8,000) inlaid with micromosaics and bordered by a rouge marble band depicts St. Peter's Square and ruins in the Roman Forum.
American Victorian furniture is represented by a Renaissance Revival walnut cabinet secretary Wooten desk (lot 852, $6,000 to $8,000), and two Aesthetic Movement ebonized cherry side chairs attributed to Herter Brothers (lot 908, $4,000 to $6,000).
Highlights from the wide variety of Continental porcelain include several well-painted KPM plaques. One depicts the Tyrolean Rebellion of 1809 after the painting Vor Dem Aufstand 1809 in Tirol by Franz Defregger (lot 698, $1,200 to $1,800) and another, a portrait of Christopher Columbus in chains, after Gustave Wappers (lot 877, $600 to $800).
Notable decorative pieces also include an assortment of bronze sculptures highlighted by a Georges Gardet (French, 1863-1939) parcel-gilded casting entitled Lioness Discovering a Foo Dog with a Barbedienne foundry mark (lot 550, $3,000 to $5,000).
Previews, Events, Catalogue, and Bidding
Previews for the auction will be held on Thursday, October 4, 2012, 12 p.m.-5 p.m. and Friday, October 5, 2012, 12 p.m.-8 p.m.
Skinner is rolling out a new look-and-feel for print catalogues. The illustrated catalogue for this European Furniture and Decorative Arts sale, #2615B will be the first to sport this new livery, and is available by mail from the subscription department at #508-970-3240. It is also available at the gallery. Prices realized will be available at www.skinnerinc.com during and after the sale. Skinner's site also allows users to view all lots in the auctions, leave bids, order catalogues, and bid live in real-time through SkinnerLive!
About Skinner
Skinner, Inc. is one of the world's leading auction houses for antiques and fine art. With expertise in over 20 specialty collecting areas, Skinner draws the interest of buyers from all over the world and its auctions regularly achieve world record prices. Skinner provides a broad range of auction and appraisal services, and it is widely regarded as one of the most trusted names in the auction business. Skinner's appraisal experts regularly appear on the PBS-TV series, Antiques Roadshow, and its specialty departments include American Furniture & Decorative Arts, American & European Works of Art, European Furniture & Decorative Arts, 20th Century Design, Fine Ceramics, Fine Silver, Fine Jewelry, Couture, Fine Musical Instruments, Asian Works of Art, Fine Wines, Rare Books & Manuscripts, Oriental Rugs & Carpets, American Indian & Ethnographic Art, Fine Judaica, Antique Motor Vehicles, Toys, Dolls & Collectibles, Discovery and Science, Technology & Clocks. Skinner galleries are located in Boston and Marlborough, Mass. For more information on upcoming auctions and events, visit Skinner's web site www.skinnerinc.com